Dr. Ruth M. Allen Endowed Fund for Medical Education
Purpose
The primary goal of the Ruth M. Allen Fund for Medical Education is to help educators learn about effective practices related to teaching and learning in medical education. The fund is intended to support individuals, especially those pursuing sabbatical or postgraduate training experiences in medical education. Eligible individuals include faculty from other institutions or countries coming to MSU who are interested in learning how to teach. Of particular interest is the development of teaching skills for junior faculty and for women in medical education.
Ruth M. Allen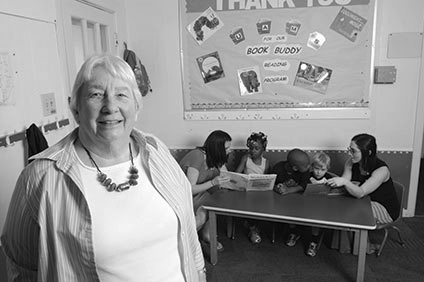 Ruth Allen earned her MS in Biochemistry and then joined the Peace Corps in Malaysia for 3 years as a teacher. She returned to the US and obtained her PhD in Instructional Design and Technology from Michigan State University in 1972. She was a Regional Medical Fellow with OMERAD from 1970 to 1971. From graduating from MSY, she became the Director of Education for the American Society for Medical Technology, joined the faculty at the University of Texas in Houston, then Wichita State University, the University of Texas Medical Branch in Galveston and then the faculty at the University of Arkansas for Medical Sciences in the Office of Educational Development. There she worked with medical school faculty, residents and fellows attempting to improve their educational activities. She is now retired and raises orchids, and volunteers at the Arkansas Symphony Orchestra where she performs research for the organization and their subscribers and participants. She recently agreed to do all the academic evaluation for the first year of operation for the Clinton School for Public Service, the only school of its kind in the nation. It has proven to be a challenge for her but an interesting adventure in a new field.
Contributions to the Fund
The Dr. Ruth M. Allen Endowed Fund for Medical Education is supported by an endowment established by Dr. Allen. Through this endowment, she wishes to both return the support and provide assistance to others interested in their professional development as educators. During her time with OMERAD, Dr. Allen developed a network of colleagues that ultimately allowed her to establish a long and successful career dedicated to the education of health professionals.
Continued support of the Dr. Ruth M. Allen Endowed Fund for Medical Education will help to expand the breadth and types of opportunities available to faculty interested in enriching their contributions to professional education, with a focus on teaching and learning.
To make a pledge to the Dr. Ruth M. Allen Endowed Fund for Medical Education or to receive further information, please contact the Office of Advancement by telephone 855-678-7444, by e-mail or by mail:
Office of Advancement
College of Human Medicine
909 Fee Road, Suite 216 West
Michigan State University
East Lansing, MI 48824-1316
Telephone: 517-353-5153
Contributions should be made payable to Michigan State University, designated for the Dr. Ruth M. Allen Endowed Fund for Medical Education, and directed to the Office of Advancement.
---
2014-2015 Grant Award
Jana Simmons, PhD
Department of Biochemistry & Molecular Biology
The 2014-2015 mini grant award was intended to encourage creative approaches to instruction or delivery that will increase students' ability to apply knowledge or skills effectively. The theme for grant award focused on enhancing basic science education. The mini grant was awarded to Jana Simmons PhD, with a project titled, "A Curricular Exercise: Training Medical Students to Answer Layman's Questions." The project proposed the development of exercises that enhance students' ability to integrate scientific and clinical knowledge to answer layman's questions. . The project required students to answer a patient's query about the safety of eating genetically modified salmon. Dr. Simmons is an assistant professor in the Department of Biochemistry & Molecular Biology
Project Poster: