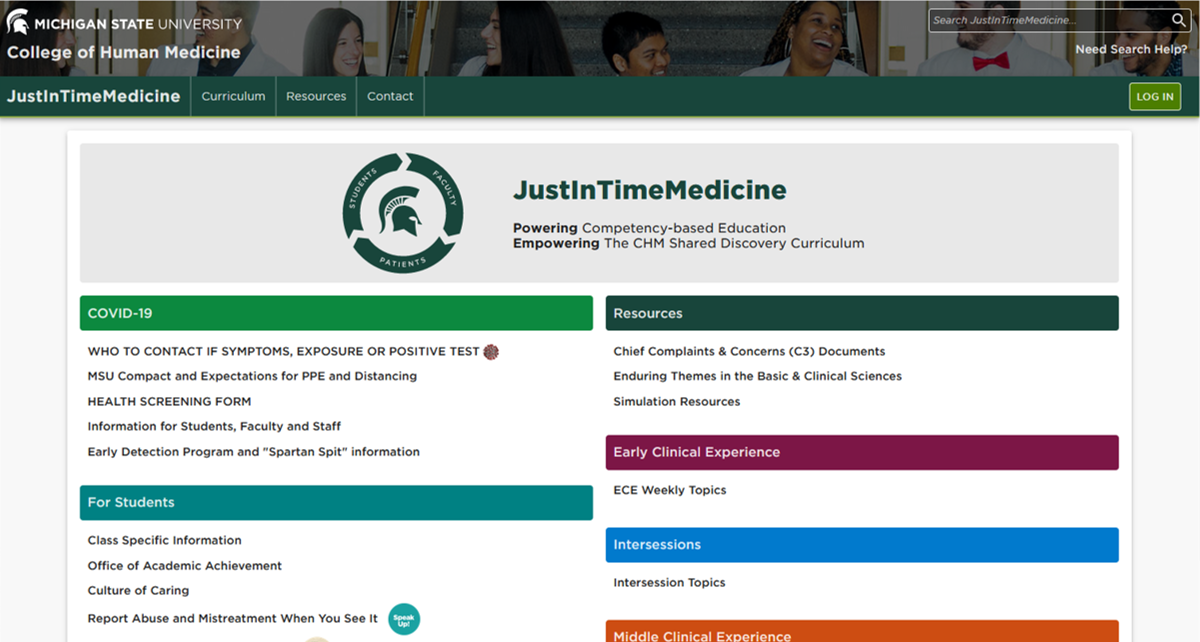 The Just In Time Medicine (JIT) system is a crucial component of the College of Human Medicine's competency-based Shared Discovery Curriculum (SDC). This resource functions as the central point for curricular content and assessment. The entire SDC curriculum is accessible via JIT. The vast majority of content is publicly available, making it very convenient for prospective students who would like to learn more about the curriculum. In addition to CHM students, JIT is used by people all over the world.
JIT acts as a portal, making internal content and material from other sources - such as electronic textbooks, YouTube, and Google Drive - more readily available. JIT is a constantly evolving resource; much like Wikipedia, the content on JIT has been created by many authors and is frequently updated. Having a responsive design allows JIT to work well across many different device types including desktops, laptops, tablets, and mobile phones. JIT makes the SDC curriculum available anywhere.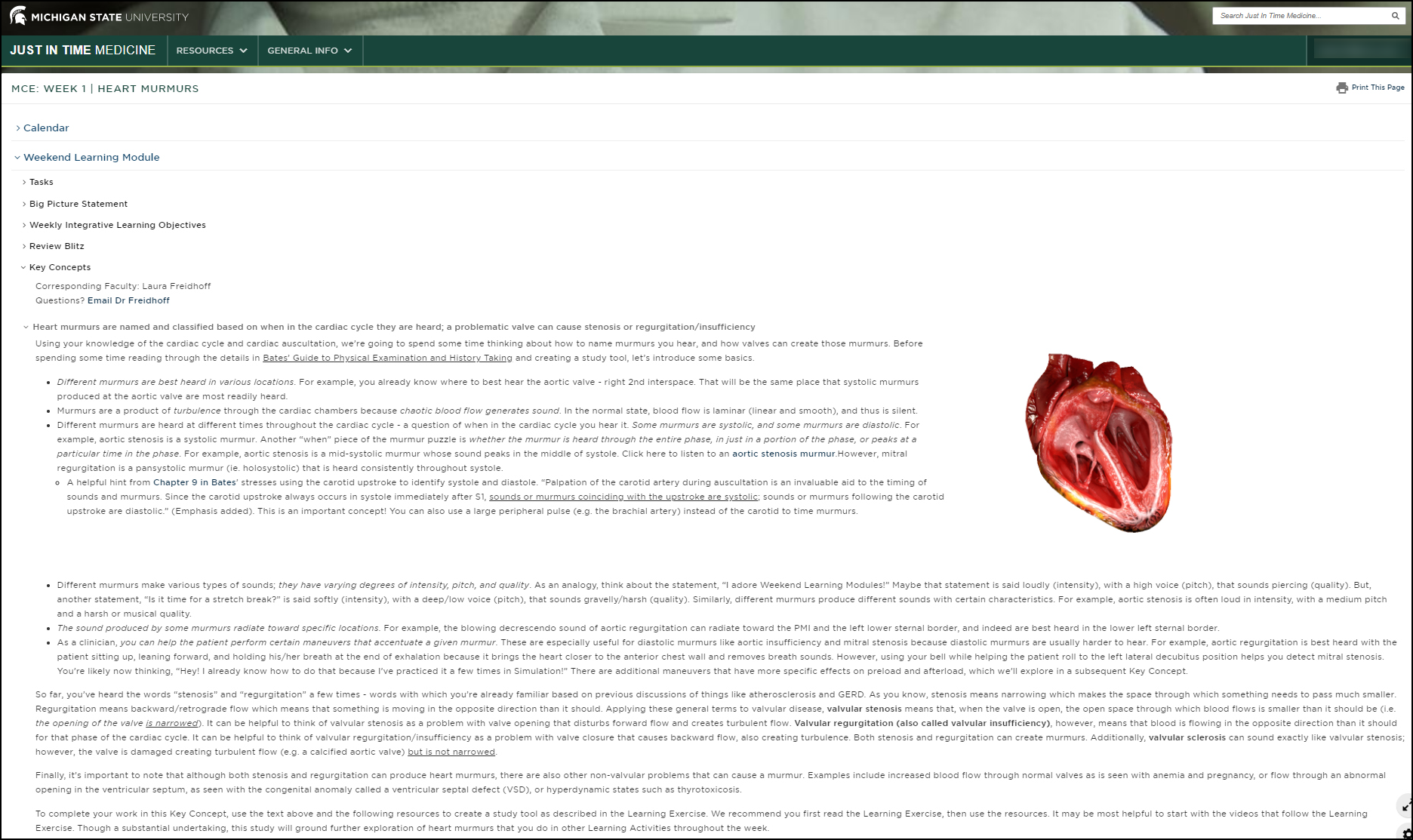 In addition to content, JIT manages all the assessments that are used in the SDC curriculum. JIT functions as an assessment aggregator, combining data from the multitude of assessments that a student completes each semester. The combined information is presented to students and faculty on the JIT Dashboard. The dashboard quickly shows how each learner is progressing according to the SCRIPT taxonomy (Service, Care of Patients, Rationality, Integration, Professionalism and Transformation). The dashboard helps students easily track their own progress in the curriculum. In addition to high-level information, users can dig deeper and evaluate data that has been imported from other systems, including NBME, Examsoft, New Innovations, and Desire2Learn (D2L). Students can also submit additional educational artifacts to their personal portfolio. JIT has become an essential tool for the Student Competence Committee (SCC) to review the progress of each student at the end of the semester. It provides a holistic view of each learner and facilitates the identification of any academic or professionalism issues.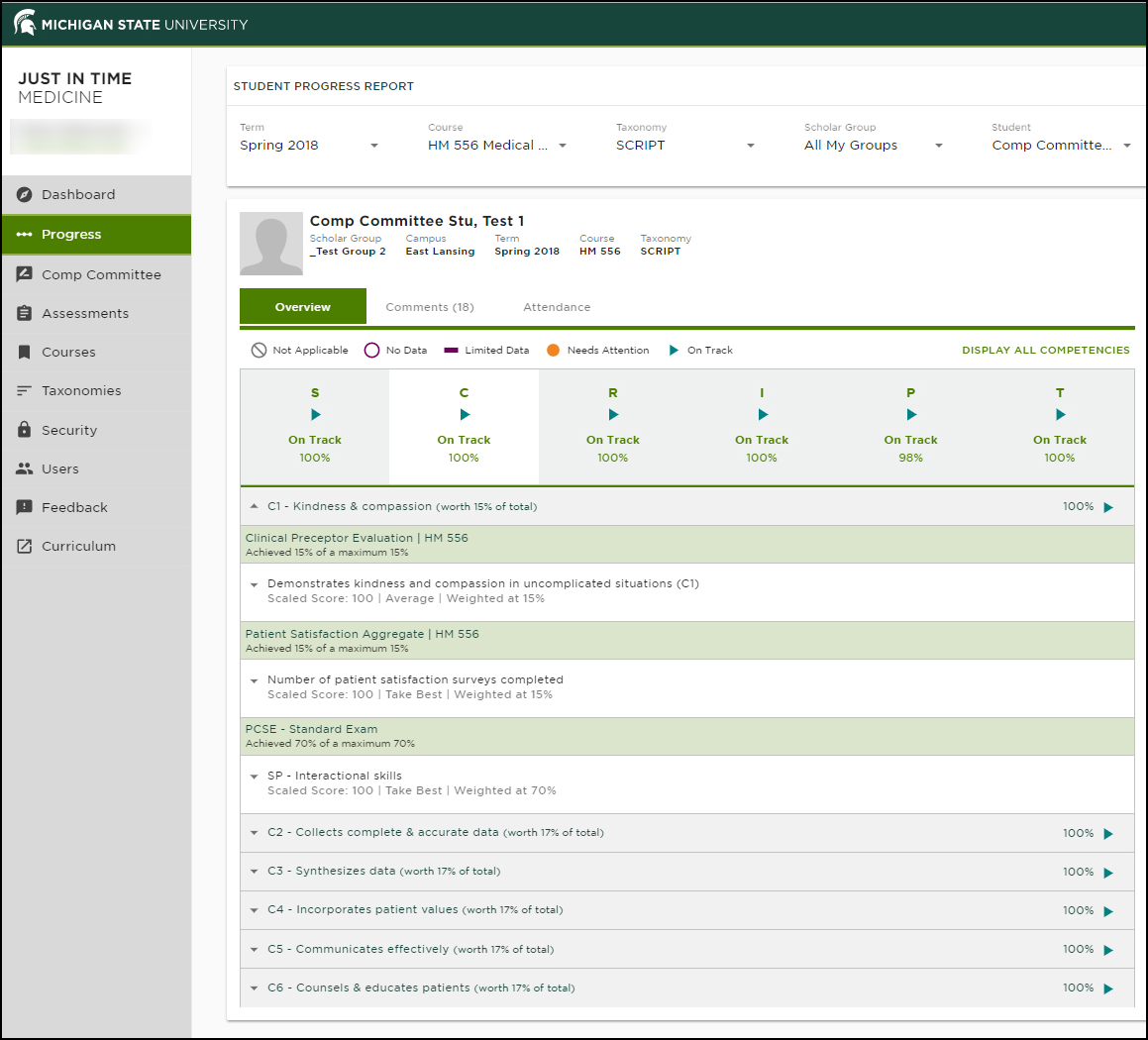 JIT continues to mature and expand its capabilities. New features are added nearly every semester. The system is supported by a team of dedicated professionals, called the JIT Team. Since JIT was developed internally, we have the flexibility to mold it to fit our specific needs. Feedback from faculty, staff, and especially students is vital as the first few years of the new Shared Discovery Curriculum are developed and delivered. To facilitate feedback, the "JIT Squad" was created to give students an opportunity to share their thoughts and ideas, as well as pilot test new features. Each semester, the JIT Team meets with about a dozen ECE and MCE students to discuss how JIT can be improved. The JIT Squad has already been very valuable for learning how to improve the student experience. As the SDC continues to take form, JIT will play an increasingly important role in content delivery and assessment.