The OMERAD unit works to increase the quality of teaching and learning in the medical school. Many OMERAD initiatives focus on teaching, but since teaching and learning are interconnected, only by working with medical students can OMERAD faculty understand ways to foster more effective teaching practices. New medical students are adjusting to a dramatic change in learning, with a focus on independent learning in the Shared Discovery Curriculum's Weekend Learning Modules. Because the new curriculum requires students to come to small group sessions ready to apply and connect complex material, OMERAD and the division of Academic Achievement collaborated to study how students approach their week's learning. In order to become effective physicians, the developers of the new curriculum have organized the week's learning to rely on connecting, applying and being able to understand information rather than memorizing. This shift in student learning means that both students and faculty need support. OMERAD Director, Dr. Randi Stanulis recruited Mrs. Amy Ward, an Instructor in the Department of Teacher Education at MSU to work directly with students to diagnose and address their learning needs.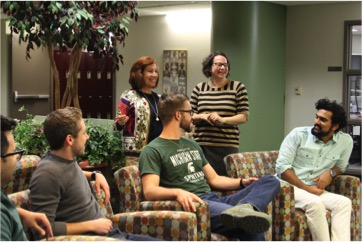 Stanulis recalls, "It all started with exploring the question of what successful medical students [are] doing to prepare for each week in the new curriculum, and what are ways we can support students to learn effective habits?'" Ward then interviewed ten students and discovered trends in habits, and behavior in students who view themselves as successful, including (1) use of visual strategies to connect material, (2) creating a note-taking system that organizes material throughout the weeks, and (3) using the objectives to strategize how to tackle the readings. From there, Ward began working 1-1 with students to help them develop strategies for integration and application of material. Activating background knowledge is one strategy they are teaching. Says Ward, "The best way to learn is when students attach new information to what they already know. We encourage students to use reading strategies in this way instead of copying notes."
In order to teach these skills to students, Ward provides one-on-one coaching. Ward first works with students on before reading strategies which consist of activating background knowing and articulating a clear purpose for reading by clearly using objectives in order to target a student's focus. Second, Ward works with students to help them become aware of during reading strategies, which consist of engaging actively by asking questions, creating visual aids such as concept maps or diagrams, and summarizing. Finally, students use post-reading strategies, organizing notes so that the student can refer back when the curriculum, by design, will cycle back to the topic. While her work with students is ongoing, students are already starting to feel the results of the work. In a recent session, one student commented that he feels he is finally able to contribute meaningfully to the discussions occurring in small group. Another mentioned that she had moved from taking formative assessments only as open note quizzes, to doing them closed-note with similarly good results. In both cases, these changes occurred because the students are preparing themselves not to simply learn facts in isolation, but to integrate old and new knowledge in a way that allows them to build a schema of complex medical knowledge.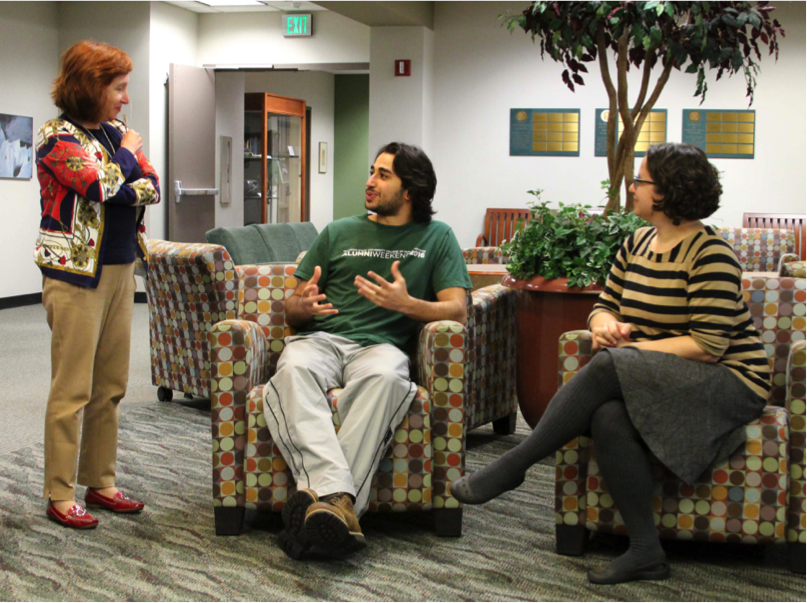 Stanulis and Ward are involved in two research projects in order to inform faculty who teach in a discovery curriculum about strategies for student success. First, they are developing case studies of the four students who are working to implement these new strategies as they read, noting their change in participation, performance and confidence in weekly activities. Secondly, Ward and Stanulis are continuing to look at habits and behaviors facing medical students and other notable trends that can add to support of students and faculty by interviewing 30 medical students. Says Ward, "Teaching and learning are not separate, they have to be connected. As this research goes on, we can see the types of things that medical students can do to be successful and we can support faculty in encouraging these students to use these habits with their own instruction styles or classroom activities."
"When we teach, we always need to consider that learning happens together in a context. In this context, there are teachers and students interacting together with content. Students and faculty needing explicit strategy instruction for reading and applying complex material. This is where OMERAD comes in," says Dr. Stanulis. "Working one-on-one with students and learning what they need will help us coach faculty to better help accelerate student learning."
In this model, student learning is enriched alongside faculty development. Whether you are a future physician or preparing physicians, the true CHM experience is not complete without the support of OMERAD.