Several OMERAD and CHM faculty have been working in partnership with Spectrum Health to create and deliver a series of interactive two-day faculty development programs in Grand Rapids for Spectrum Health physicians and advanced practice providers, led by Spectrum Health's Lori Schuh, MD, who is Vice President for Academic Affairs. Dr. Monica van de Ridder, an Assistant Professor in OMERAD, has been working closely with several physicians to co-create curriculum for this two-day program. In addition, Dr. van de Ridder leads four courses, on assessing performance by direct observation, giving and receiving feedback, difficult feedback conversations, and bedside procedural teaching.
Needs assessments collected from Spectrum physicians, residents, and MSU CHM medical students revealed that there was a great need for more ways to effectively assess learner performance during rotations, learn how to give and receive feedback, teach providers to handle difficult feedback, increase their capability to teach in time compressed settings and teach clinical procedures. The clinical faculty and OMERAD/CHM faculty set out to design series of courses to meet these needs of the clinical faculty.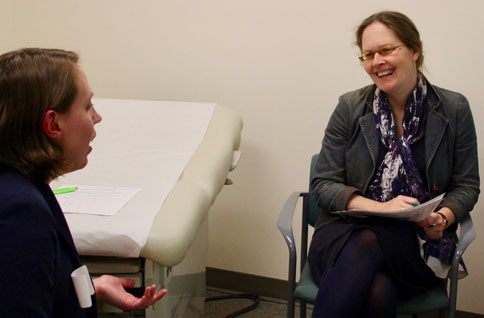 This Spectrum Health/MSU faculty development is a two-day course. First, each faculty development leader introduces major teaching points about each topic, and then clinicians participate in an Objective Structured Teaching Examination (OSTE) as a way to apply their learning. In the OSTE, faculty development providers assess the clinicians' performance in teaching a procedure, performing a learner assessment, and providing feedback to a learner. Clinicians are also able to view the video and decide how to improve their skills as educators. One key feature of the course that Dr. van de Ridder leads is developing an individual learning plan in which clinicians formulate goals they would like to work on to improve. For example, if a clinician noted a specific behavior in the OSTE video recording, they can set a goal for a targeted way to improve. In this way, the course integrates reflective active learning strategies to supplement faculty development and participant learning. OMERAD's Dr. Stacey Pylman and Angie Thompson-Busch, MD also teach a course on Coaching, Advising and Mentoring.
Says OMERAD's Dr. van de Ridder, "We make the course highly interactive and active learning is a big part. You can't teach these skills without practicing and that is why OSTE is important."
After the course is over, the clinicians will participate in the OSTE component again, 4-6 months later. This refresher course can help cement the skills taught previously. As van de Ridder reflects, "Sometimes when you are taught something it slips away and it is helpful to repeat what you are taught. While there is no evidence regarding an ideal number of these refresher courses [to cement the topic], it is helpful to practice what you learn and start applying these skills right away to get the most out of the course." This is a key tenant of active learning: application of new knowledge and skills.
Says Dr. Schuh, "About 40 physicians and advanced practice providers have participated in the program this academic year, and the feedback we've received has been extremely positive." With this two-day course sequence, Dr. Van de Ridder, OMERAD, and Spectrum Health faculty development leaders provide participants the opportunity to experience active learning strategies first hand and use these new skills to grow as clinical educators. Participants are also growing as a faculty community. Dr. Schuh explains, "We are recruiting new faculty development providers from those who have completed the course. An unplanned benefit of the program is the interaction between physicians and advanced practice providers, and those from different specialties."